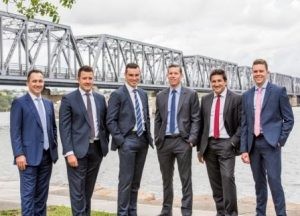 Ray White Commercial NSW is a partnership directly with the White Family. Ray White is Australasia's largest real estate group with annual turnover exceeding $40 billion. This includes 48 owner led commercial businesses transacting $2.5 billion of leasing and commercial sales every year.
Ray White Commercial NSW was formed with simple objectives to be clear market leaders in the way we seek, list, sell and manage commercial property. We are a unique commercial business that leverages from the 113 year, 4th generation Ray White Group.
Its Greater Sydney South team, headed by Charlie Yankos and Matt Debreczeni specialises in sales, leasing and management of commercial, industrial and retail assets. Our business is built on developing long term relationships based on trust and integrity. We are driven by the constant refinement of our tools, skills and processes providing the greatest possible value to our clients.
Ray White Commercial NSW Greater Sydney South is headed by Charlie Yankos and Matt Debreczeni. Charlie has 30 years commercial real estate experience and Matt is recognised as elite agent status.
Specialising in all facets of commercial property including:
Sales & leasing | Retail | Commercial | Industrial | Residential & Commercial development sites | Property management